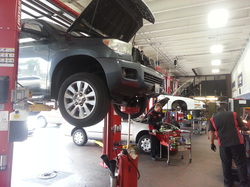 Lube & Oil Changes
Proper lubrication is essential to keep engine friction to a minimum so your engine will run smoothly. Our technicians perform lube, oil and filter work quickly and expertly, using only quality, leading brand oil products.
The following simple and inexpensive preventive checks will greatly extend the life of the vehicle, ensure safer and even benefit the environment.
Always consult your owner's manual. But a good rule of thumb is to have the oil changed regularly, every 3,000 to 4,000 miles.
Have all fluids checked, including brake, power steering, transmission/trans axle. windshield washer solvent and antifreeze. The fluids play a large role in the safety and performance of the vehicle.


---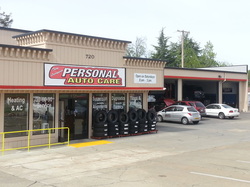 Cooling System Maintenance
Car and truck water pumps, thermostats & engine coolants
Warm weather can take a toll on your vehicle, and a malfunctioning cooling system can
lead to overheating and damage to your radiator. Visit Personal Auto Care
anytime to have our trained auto service technicians inspect your system and
replace any damaged or worn components. This will keep your engine protected
during warm months and will provide you with peace of mind.



---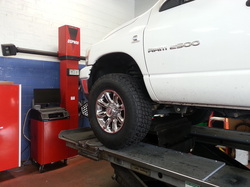 Tire & Wheel Alignment
Alignment for your car or truck can help prevent uneven wear
Bumpy roads and potholes can throw off the alignment of your vehicle, causing it to
pull to the left or right rather than traveling in a straight line. This can
lead to uneven tire wear and reduce your gas mileage. If you've noticed this in
your vehicle, stop by Personal Auto Care anytime for a road test and
professional wheel alignment. Our trained technicians will be able to restore
your proper alignment, improving your handling and making your vehicle run more
efficiently.
---
---
AIR CONDITIONING - Keep your vehicle cool and comfortable. We do complete services and repairs that ensure the comfort you desire. During the summer months, few components can ground an automobile faster than a malfunctioning air conditioning system. When you first notice the performance beginning to deteriorate it is time to have your system checked by our professionals. We utilize ultraviolet lubricants to detect leaks, this fast and accurate process is beneficial in that it speeds up the diagnostic process and minimizes down time.

COOLING SYSTEM - Whether you're preparing for winter driving or summer traveling - there is more to protecting your engine than just checking the antifreeze. Your cooling system provides protection to your engine year round and should be serviced every two years. Did you know there are several different types of antifreeze used by automobile manufacturers? Using the wrong type could damage your engine. Our trained professionals can service your system with the right type of fluid to keep you on the road.